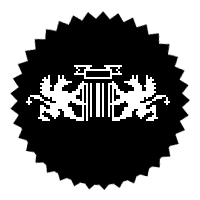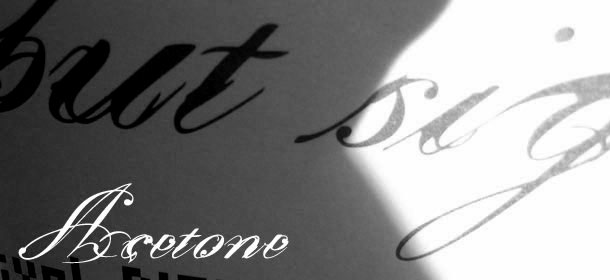 Acetone is one of my first fonts. Made to the sound of Trip-hop in my parents' house back in 1999 and originally called Tousenni. Later I designed the complimentary dingbat 'Aether'. It amazes me that this 1999 font is becoming very hip just now. Maybe it's because more and more of these remixed script fonts are popping up everywhere.
A couple of year later I came up with the idea of making "symbols" for silence, because silens is much more than blank space. I applied this idea to Acetone in the form of the free dingbat Aether.

Buy from Myfonts
or buy directly by contacting me.




Circlejerk is based on strict rules and dogma which in a twisted way is freedom, the more rules you obey the less you have to think for yourself. Also based on some burmese license-plates I saw once and sanskrit, the baseline is at the x-height.
Circlejerk now comes in 2 weights and features alternate characters, accents and some special characters.
Circlejerk was previously called Arkudius.

Buy from Myfonts
or buy directly by contacting me.




Dummytapes is a free font-system, consisting of negative or positive characters and add-on effects. I never liked fonts like this, if you want things to look like they where made with a Dymo, then use a Dymo.
But once you start scaling the effects out of sync with the characters, use the effects alone or use the wrong effects Dummytapes gets really interesting. Most importantly: Make mistakes.
Unfortunately, Dummytapes only works for Mac because it uses some rare, magical Mac Postscript features.

download Dummytapes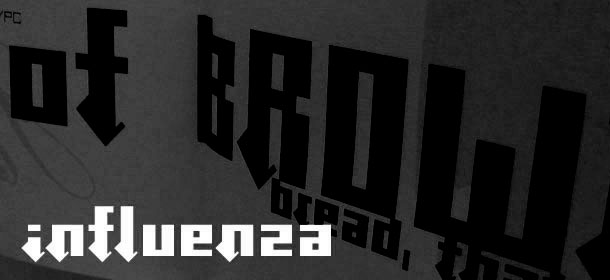 Influenza means 'The Flu' in a number of languages. The font is originally based on a stripped down version Linemap Bold.
Some letters don't look like they belong in the same family, but the more you write in Influenza, the more everything comes together.

Buy from Myfonts
or buy directly by contacting me.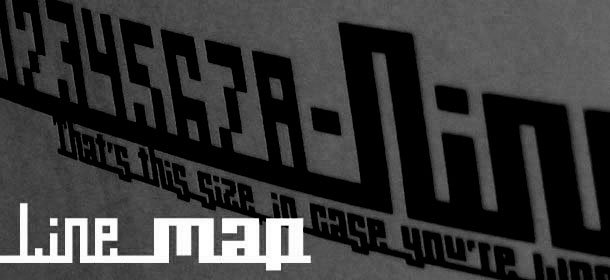 Linemap is is a 9 pixel bitmap font in 6 weights. It combines the thought of a bitmapped font with a script.
Linemap-regular is free, download it here or buy the full 6-weight typeface.
On the tips & tricks side: If you use underscore instead of using space, you get that connected look.

Download Linemap Regular for Mac

Download Linema Regular for PC

Buy from Myfonts
or buy directly by contacting me.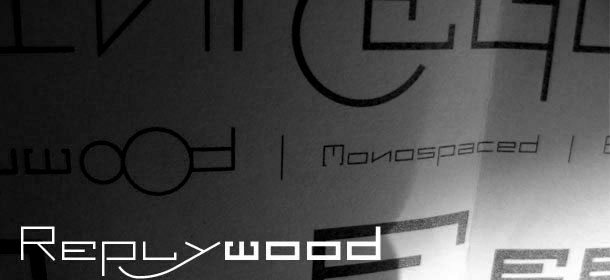 Replywood is a 6 weight monospaced font. (Normal + alternate and thin, regular + bold.)
The thin weight is half as thick as the regular, which is half as thick as the bold, this allows you combine the weight at various sizes while maintaining a single stroke-width. Replywood also features my trademark underscore effect. If you have no idea what that is, go download the free version of linemap and play around with that.

Buy from Myfonts
or buy directly by contacting me.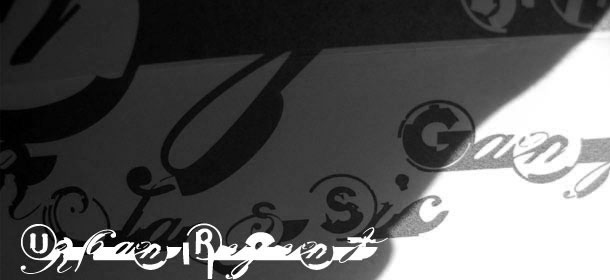 Urbanregent made itself, mostly.
I did it as an improvised font to get out of a creative block. There hasn't gone much thought into each character, they're all individuals tied together by that fat band. Urbanregent is inspired by living in a city, some things are planned, some things aren't. It features a limited character set and some redesigned characters. The stars after the word 'dirt' is the exclamation marks because normal exclamation marks aren't loud enough any more.

Buy from Myfonts
or buy directly by contacting me.